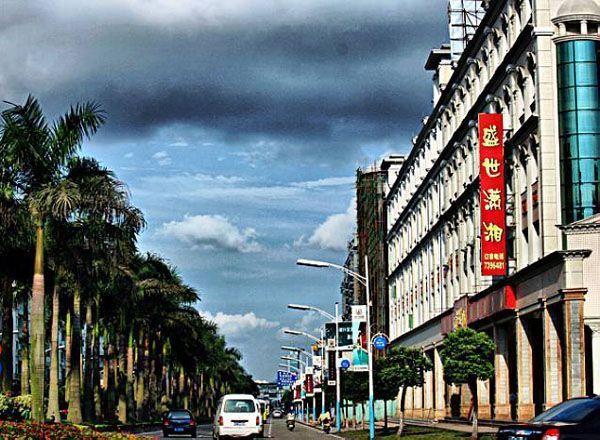 In order to thoroughly investigate the development of rural tourism in Zhongshan, and provide the first hand material for the development policy of rural tourism new formats of supporting and developing country lodging, in the afternoon of June 14th, director He Jiebin of the Municipal Tourism Bureau led the responsible people of the resources development section, the market development section and other departments to three villages and towns to carry out rural tourism research . The research group first held a research symposium in three villages and towns, and then went to three villages and towns in ancient village, Tanggu village and other places to find out the current situation of rural tourism resources development, and understand the restricting factors in the development.
At the symposium, Lin Shaoming, the Secretary of the three township party committee, introduced the development orientation of three townships in the city and the southern group, the cultural tourism resources of the ancient villages in three villages and the future development of cultural tourism, and proposed the establishment of the cultural tourism center in the southern part of Zhongshan. Director He Jiebin introduced the strategy of implementing the strategy of the central and provincial rural revitalization, fully excavating our city's ecological and environmental resources and historical and human resources, and vigorously developing the ideas of rural tourism, and expressed the recent policy measures to support and develop rural tourism and other new forms of rural tourism. The two sides also exchanged ideas and ideas on the development of rural tourism in three villages and towns. After the symposium, the research group examined the Taoyuan fort of guheun, a street of ancient village and the central ridge of the Tanggu village, and had a field exchange on the development of rural lodges and building RV camps.
Three villages and towns are the core of the economic and southern groups in the southern part of the city. The level of urban and rural economic development is high, the rural tourism resources are rich, and the rural tourism has a good foundation. The village of ancient crane Village and Yongmo village in the area is not only an ancient village with a strong historical and cultural atmosphere, but also an important tourist festival along the Qiao ancient road. Point. Next, we will carry out the deployment of the strategy of Rural Revitalization in accordance with the city, and combine the location of the cultural tourism center in the south of the three towns and towns, and integrate the five Guangxi mountain scenery, the ancient villages, the culture of the hometown of overseas Chinese, the famous residence and the hot springs in the three villages and towns, and support the development of a group of characteristic village lodges, and promote the three townships and even the villages and towns. The rural tourism in Zhongshan has been transformed and developed. The characteristic rural tourism has become a characteristic format and characteristic brand of Zhongshan tourism.